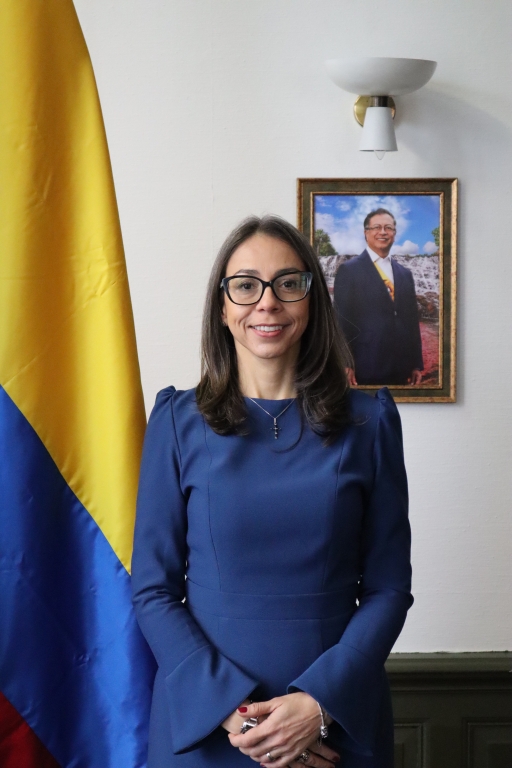 Embajadora de Colombia ante el Reino de los Países Bajos
Carolina Olarte Bácares
Ambassador of Colombia to the Kingdom of The Netherlands. Agent of Colombia before the International Court of Justice, Member of the Permanent Court of Arbitration. Former Dean and Associate Professor, Law School, Pontificia Universidad Javeriana, Bogota, Colombia. Ph.D. in International Law University Paris 1 Panthéon-Sorbonne, Master of research in international law, Robert Schuman University, Strasbourg. Lawyer, Pontificia Universidad Javeriana, Law School, Bogota.  
Independent Consultant in international law, investment arbitration, human rights, and business and human rights, and external consultant for diplomatic representations in Colombia on matters related to diplomatic privileges and immunities. Founding member of the Colombian Academy of International Law (ACCOLDI), Board Member of the Global Business and Human Rights Scholars Association, and the Latin American Business and Human Rights Academy.  
The Ambassador is a member of the Editorial Board of the Brazilian Journal of International Law and the Anuario Iberoamericano sobre Derecho Internacional Humanitario.  
She has been a research associate at several Universities in Colombia, a guest lecturer at North and Latin American universities, and a lecturer at Sciences Po Paris. She is a native Spanish speaker and fluent in French, Italian, and English.